POLISH SCHOOL OF SPINE SURGERY COURSE
Polish Spine Surgeons Society (PTCHK) & Spine Forum (SF) Initiative
3rd Cycle – Module 1
– 2021-06 Świeradów Zdrój
The comprehensive overview of basic spine treatment problems.
This course consists of five integral modules
Course Chairman:
Dariusz Latka, MD PhD, Assoc. Prof., Dept. of Neurosurgery, Institute of Medicine, University of Opole
Target audience:
Trainees in neurosurgery and/or orthopedics and trained surgeons, who are planning a career in spinal surgery.
Faculty:
Listed in the program
Dress:
casual
Language:
Polish (lectures) Polish/English (slides & discussions)
Learning outcomes:
1. Explain the impact of spinal disorders on the individual and society
2. Evaluate a spinal patient
3. Recognize serious and urgent spinal disorders
4. Formulate a plan for the safe early management of emergency and serious spine
disorders, based on sound principles of treatment.
5. Demonstrate sound clinical judgment in planning patient management around selected cases
6. Discuss a multidisciplinary approach and the role of conservative treatment in patients with chronic back pain
7. Explain the role of EBM, clinical trials and registries
8. Discuss the use of clinical outcome scores
9. Explain the application and limitation biomechanical lumbar spine in vitro
element models
10. Be aware of current molecular research on intervertebral disc degeneration
Important:
Attendance at every session is mandatory.
This will be a paperless course and not printed programme will be provided.
A wireless Internet device (mobile phone/Ipad/computer) will be necessary to access on-line resources during the course and for completing the course evaluation. Please bring one with you.
The course evaluation is mandatory to obtain the Polish Society of Spinal Surgeons (PTCHK) certificate.
23.06.2021 r.
TIME

TOPIC

FACULTY

07:30-07:50
Course registration and Welcome Coffee
07:50-08:00
Introduction

Dariusz Łątka - Course Director, Stanisław Adamski - AOSpine, Robert Gasik - PTCHK,




Paweł Jarmużek - SpineForum

08:00-08:20
Introduction test - mandatory

SESSION 1: Epidemiology, diagnostics and conservative therapy

08:20-08:40
Epidemiology and Economics
Dariusz Łątka
08:40-09:00
EBM, recommendations, spine registries, outcome measures.
Andrzej Mazurkiewicz
09:00-09:20
Neurological clinical examination
Marta Glaubic-Łątka
09:20-09:40
Radiology
Marek Waligóra
09:40-10:00
Rehabilitation, conservative and manual therapy
Jan Szczegielniak
Coffee break 20 min

SESSION 2 Spinal surgery basics

10:20-10:40
Spinal surgical anatomy
Adam Pala
10:40-11:00
Spinal biomechanics – basics.
Celina Pezowicz
11:00-11:20
Spinal biomechanics – clinical considerations
Andrzej Maciejczak
11:20-11:40
Biology of the intervertebral disc, cellular and molecular research.
Maciej Radek
11:40-12:00
Adolescent spine
Tomasz Potaczek
12:00-12:20
Aging spine
Rafał Załuski
13:00 Lunch 60 min

SESSION 3 Red flags and spine emergencies

14:00-14:20
Spinal "red flags"
Rafał Górski
14:20-14:40
Traumatic spinal cord injury
Wojciech Kloc
14:40-15:00
Cauda equina syndrome
Lech Grzelak
Coffee break 20 min
15.00 SESSION 4: Concise review of spine related problems – ZOOM ONLINE BROADCAST

15:20-15:40

Degenerative spine

Paweł Jarmużek

15:40-16:00

Spine deformities

Tomasz Kotwicki

16:00-16:20

Primary tumors of the spine

Daniel Kotrych

16:20-16:40

Secondary tumors of the spine

Grzegorz Guzik

16:40-17:00

Modern stereoradiotherapy of the spinal column

Kornel Pawlak

17:00-17:20

Inflamatory diseases of the spine

Tomasz Niedźwiecki

17:20-17.40

Spine in systemic disorders

Robert Gasik

18:00-18:30
Final test and course evaluation - mandatory
Welcome cocktail
Zapraszamy wszystkich członków PTCHK i ludzi zainteresowanych problematyką leczenia schorzeń kręgosłupa.
Transmisja on-line sesji 4, moduł 1, w ramach 3. edycji Polskiej Szkoły Chirurgii Kręgosłupa organizowanej przez Polskie Towarzystwo Chirurgii Kręgosłupa i Forum Chirurgów Kręgosłupa.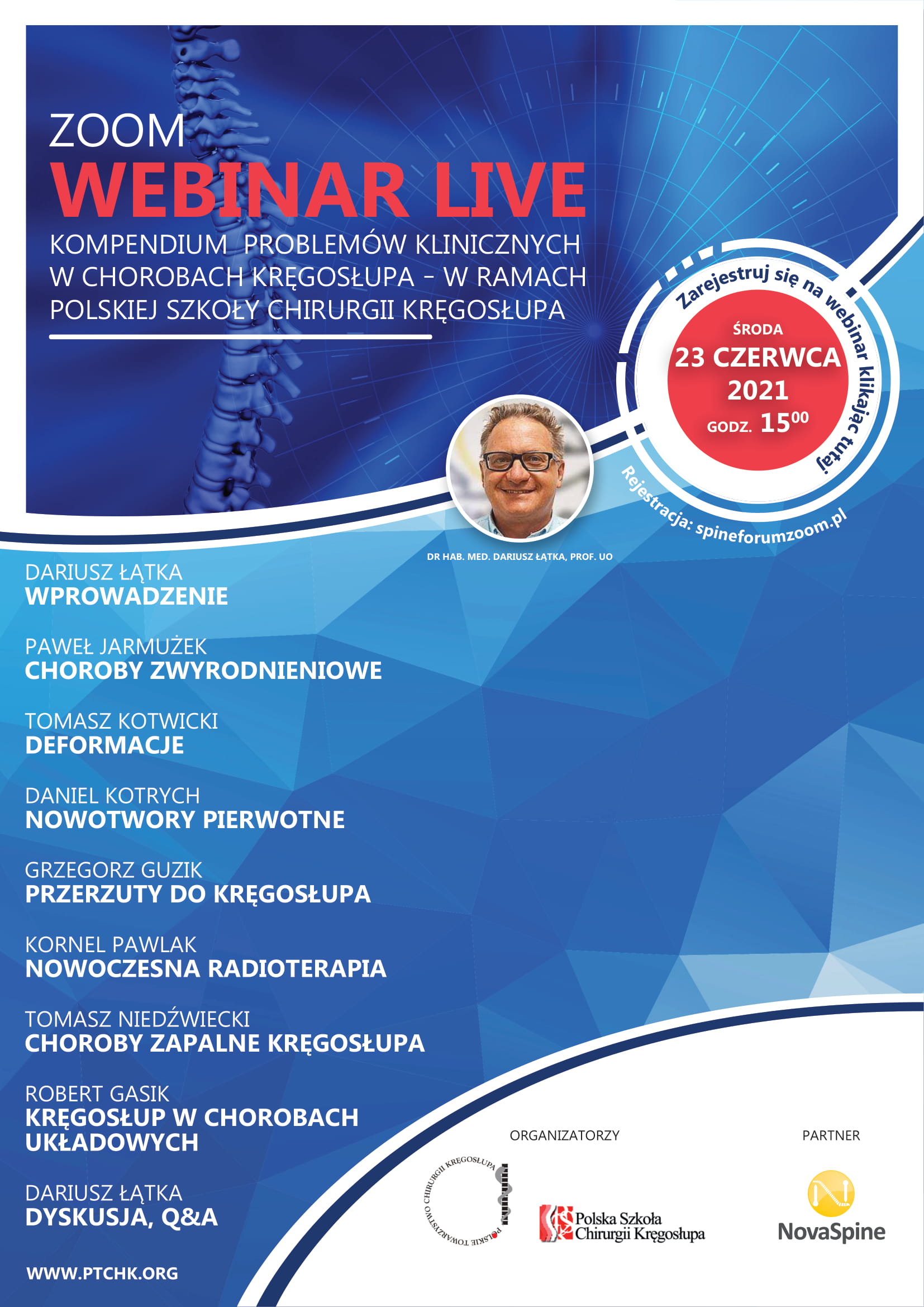 Webinar skierowany jest do lekarzy i fizjoterapeutów zainteresowanych tematyką leczenia chorób kręgosłupa.Link do rejestracji na webinar podczas Polskiej Szkoły Chirurgii Kręgosłupa:
Link do rejestracji:
https://zoom.us/webinar/register/WN_wCSSgjY2Q2ygAPdc_1atKQ